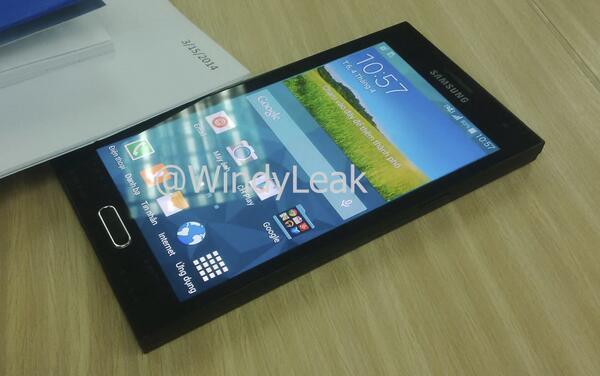 Above: Is this the Galaxy F? This one is supposed to be rockin' a QHD screen!
SYNAPSE CIRCUIT
SAMSUNG 2014 HYPE!
#Samsung #GalaxyS5 #GS5 #SamsungvsApple #GalaxyS5Prime #Unpacked2 #Gear #Apple

Good late evening, Synapse Circuit Readers! I hope that you had a wonderful day! And if your day is unravelling where you are there is still time!

Yes, reviews are coming this week! I just have to catch up on the latest Tech-News! Please be patient! I have some great products lined for you!

The official UK launch of the Galaxy S5 is a couple of days away and I hope to cover the event in East London! But in the meantime...

APPLE vs. SAMSUNG
The latest Tech-War battle has revealed a lot about Apple that has confirmed the speculative Synapse Circuit articles concerning the inadequacy of Apple products. Jobs, Cook and Schiller fears Android and Samsung (and I bet LG, Asus, Lenovo / Motorola and many Android manufacturers) and that the lawsuits are attempts to put a spanner in the works of Samsung especially as they are doing wonders in the smartphone and tablet market! No matter what Apple does in or out of court they give Samsung so much publicity inadvertently that it could render the lawsuits a total waste of time! I do think that Samsung is will claim more of a percentage of handsets this year over the iPhone. We'll see...

APPLE WWDC 2014
You may be aware that Apple is going to have its developer conference in 2 – 6 June. So, my guess is that Samsung will launch the devices based on the S5 (such as S5 Zoom, S5 Active and perhaps this elusive "Prime" model that people are still talking about) not too far from the Apple WWDC!

Predicting the WWDC I can see an update to the iOS7, OS X, a smartwatch (iWatch), Apple TV and most likely the iPhone 6 that will sport a 4.7" screen and 4" screen for those who are happy with the screen as it is.

And there will probably be the second generation iPhone C – 5C.
Also form Samsung it is possible that they could use the opportunity to launch the Galaxy F which may or may not be the "Prime" model.

S5 IS ALIVE!
Ooooh, yes! As has proven to be the case with Samsung's designs from the S3 up – it's only when you have the handset in your hands do you appreciate the beauty of it! I had one in my hand yesterday evening and I WANT ONE!!!! I can hardly wait to attend the official UK event in Stratford East London.

I hope to bring you footage of the London event!

GRAPHENE
Samsung is said to have made great progress in producing a material called "Graphene" that is used to make flexible screens. If it were up to Samsung they would have had a handset with a flexible screen out on the market already! Maybe, just maybe The "F" in this rumoured Galaxy F could stand for "Flexible".

GEAR WATCHPHONE
Samsung is also said to be launching a Gear model that works as a standalone phone that uses a SIM card. I can envisage the use of a flexible screen in that model too!

IN CLOSING
Samsung has to keep up with its innovation and therefore we will be seeing a lot more from them this year! The S5 hasn't quite reached the UK yet but there is the Galaxy Ace Style budget handset that's on its way and the second generation Galaxy Camera is already on the market and it looks so much better than last year's effort!

What do you reckon?

I am hoping that I can bring you reviews as soon as possible! Stay tuned!

Take good care!

Thank you for watching and reading!

Please check out the Synapse Circuit website for video, i-PDF and more!



Synapse Circuit Dot Com