UNPACKED 2014 EPISODE 2:
Oooh, yes! We are ready!
SYNAPSE CIRCUIT
Good afternoon, Synapse Circuit Readers. I hope that all is well with you! I hope the weather is treating you well where you are! Here in London the Sun is out in splendour!

Yes, the Samsung train is being prepared before it leaves the station... We have the Galaxy Note 4 to look forward to! And it could be that there will be several versions of the Galaxy Alpha handset to look forward to also!

#Samsung #SamsungGalaxyNote4 #GalaxyAlpha #GalaxyS5LTE #GalaxyS5Prime #GalaxyTabS #GalaxyAlpha #SamsungUNPACKED2014Episode2


GALAXY NOTE 4

September 3 2014
is the date for the launch of the Galaxy Note 4! Hurrah! This is one of the handsets that I could be upgrading to later on this year and I – as is the rest of the world – am curious as to what the Galaxy Note 4 entails! Here's what is expected at the very least:-

Screen: Super AMOLED 1440 x 2560 pixels, 5.7 or 6 inches (515 ppi pixel density)
RAM: 4 GB RAM
Main camera: 16MP, 3456 x 4608 pixels, optical image stabilization, autofocus, dual-LED flash
Front camera: 5MP

The processor is going to depend upon the International marketplace but it is going to be a quad-core of exceptional speed or octo-core Exynos! It could very well be that a 64-bit processor is out of the question but Samsung has stated in the past that they are just waiting for Google to enable 64-bits on its Android operating system. There again what is to stop Samsung from developing a 64-bit processor for its Tizen operating system?

It is very likely that we will get the main spec as mentioned above as the "leaks" uniformly point to a qHD screen but the screen size varies between 5.7 and 6 inches. The 16MP camera seems likely because we've been expecting a 20MP camera to no avail for the current Note 3. The front-facing camera varies between 2MP and 5MP as it is uncertain as to what value Samsung places on the "selfie" phenomenon. Many people find it easy to use the main camera to take selfies through guess work! I know I do! That said, it would be good to see Samsung rising to meet the innovations of other premium handsets where the camera is concerned! However, as a mobile phone photographer it is the main camera that is of interest to me; considering Samsung is renowned for its camera technology it would be ideal to have 20MP! There again Samsung premium handset cameras have never let me down! It can only get better – I hope! I am looking for increased sharpness and colour contrasts – especially night / poor lighting situations.


MAKING UP?

It has been said that it is hoped that the Galaxy Note 4 will compensate for the disappointing Galaxy S5 sales but I think that the Galaxy S5 is a red herring. Why? Okay... Here goes...

Right from the start we got wind of a Standard and Premium / Prime version of the Galaxy S5 and that did not happen. I took this as a sign that Samsung put the GS5 out there as a marketing experiment, "Back to basics..." Really? I feel that Samsung misfired purposefully to see what other manufacturers would bring to the table and LG was first with qHD screen G3 which has sold very well so far. And also to gauge the response of the consumer. As always, the main aim for Samsung is the iPhone. It is no secret that Samsung wants to convert iPhone users to the Galaxy S, Note and Tab S concepts because that is the objectivity of the adverts. Samsung does not target any other manufacturer / brand but Apple.

The Galaxy S5 was to gauge the marketplace, brand loyalty and to see how other manufacturers compete with the high standards of last years GS4. I am quite sure that Samsung will release a more competitive handset in the GS5 region that will have premium features such as the qHD screen. Could this be what the Galaxy Alpha is about? Hmmmm... I am not sure as the Galaxy Alpha - where the "leaks" are concerned - appears to be more of a design and build adjustment. But let's stick to the Galaxy Note 4...


DESIGN

It is clear to me that consumers want more interesting designs. HTC has done well with the One M7 and M8 designs and LG has done remarkably well with the Nexus 5, G2, G Flex and G3! LG has worked very hard on their handsets and have taken criticisms onboard with regards to the Optimus range. Now LG has firmly cemented itself as a top Android manufacturer.

With Samsung, as said in the last SamsungTalk article, they seem to be emulating Apple and the unimaginative iPhone "designs". What Samsung is doing is to keep refining the Galaxy S and Note designs and not rocking the boat as they did with the Galaxy S2 and S3 designs. Instead Samsung have concentrated on adding innovations such as the heart rate monitor and the dimpled battery cover that makes for a better grip. Had I been up for an upgrade I would have gotten the GS5 over the LG G3 primarily because of the camera whereas I think other would have been GS5 owners went with the G3 because of the unique design, qHD screen and removable battery - for some reason the G2 Pro didn't feature a removable battery. The GS5 seems to be more of a niche product for active folk what with the aforementioned heart rate monitor and water resistance; I think the sales are pretty decent considering. It remains to be seen if Samsung pitches some premium form of the GS5 against the upcoming iPhone 6 that is tipped for a September 9 launch! Again, this could be the Galaxy Alpha.

But we Galaxy Note users are hoping for somewhat of a design departure for the Note 4. I was a tad disappointed by the Galaxy Note 3 design when it was revealed but the spec was so impressive that I knew it would sell regardless. One of the whispers going around is that the Note 4 will feature a flexible screen so we could see a new design that fits around it. I for one don't want to speculate about such (YOUM) screens as this could dampen the launch. I want to be surprised!

More than anything a disappointing design has dampened post Galaxy S3 launches with the exception of the Galaxy Tab S launch! No, the GS4 had great features but we were hoping for a stronger design. The Galaxy Tab S launch was the way back to Samsung's glorious and flamboyant launches that we know and love. Yes, some hate such launches but it is a good sign; it's a reaction nonetheless!

I would love to see 2 Galaxy Note 4 designs; one featuring a 6" screen and one 7"! In any event I have yet to see a direct competitor to the Galaxy Note... There are quite a few phablets out there that don't quite match up to all the features of the Galaxy Note and this could change this year as Chinese manufacturers are on the rampage! Watch out!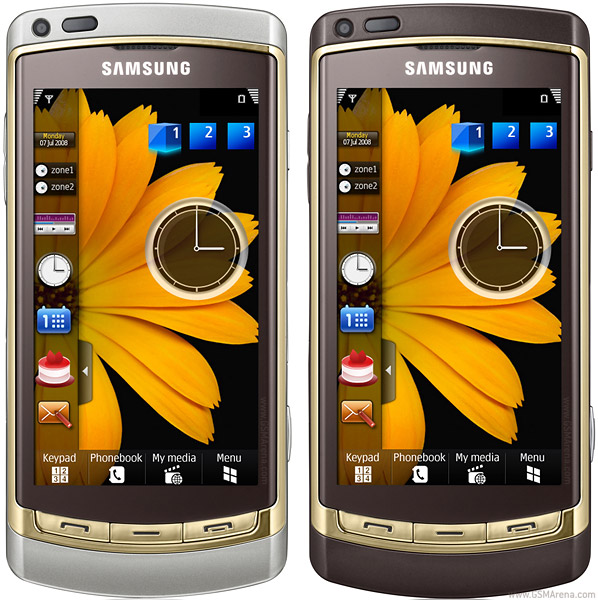 I would love to see Samsung refine the superior i8910 Omnia HD design for today's market! Make it a tad wider, flatter, extend the screen so that it bends to the edge (as seen with a YOUM screen prototype) remove the physical buttons except the 'home' button and put some speakers at the front! Personally, I think this design is better than the iPhone. Oh, make it so that the main camera can also be used at the front! I doubt that Samsung will take any notice of me. Lol! When the Omnia HD came out in the UK it made people take notice - especially the HD video recording capabilities that, if I remember correctly, featured in an amatuer music video. Samsung were ahead of their time - they still are! Just! Lol!


GALAXY ALPHA

It could be that as the September 3 launch will happen simultaneously in 3 major cities, Berlin, Beijing and New York, that there will be more devices launched that day. Rumour has it that we'll see the introduction of the Galaxy Alpha range. Here's what is said to be the spec of one of the rumoured range:-

4.7-inch Super AMOLED display, 1280 x 720 pixels (320ppi, or pixel density)
4G capabilities
Connectivity: Wi-Fi, Bluetooth 4.0 with A2DP, EDR, LE, Micro USB, GPS
Camera: 12MP with autofocus, LED flash, video, and secondary 2.1MP camera

The design and materials look to be in line with the iPhone form to appease consumers who want the iPhone feel but not the iOS experience.

This Galaxy Alpha could very well appeal to the iPhone market that appears to be young women (and even children) these days. If that is the Galaxy Alpha in the picture above it looks like the battery can be replaced and would add to the appeal; many iPhone users I know complain about the poor battery life.

Samsung could also reveal a 5.5" screen Galaxy Alpha to go head to head with the much rumoured iPhone 6 5.5" phablet. We'll see! You can never really tell what Samsung is going to do. What will they come up with next?


GALAXY VR

Samsung could also be announcing its virtual reality headset: Gear VR! I assume that the Gear VR headset will display any or selected Galaxy S and Note screens for immersive game playing, etc. This could be very exciting. I am surprised that Samsung haven't come up with an alternative to Google Glass or maybe that is in the works...

As always it is exciting whenever Samsung launches a new product or products!

THANKS FOR READING...
Please check out the Synapse Circuit site here: Synapse Circuit.com

Yes, I am well aware that the site is due an update soon! It's coming...

Synapse Circuit for tech news, opinions, articles, reviews and competitions. You will find interactive PDF magazines, videos and links to free legal software! Check it out at Synapse Circuit dot com