Above: The Samsung Galaxy S5 Prime?
SAMSUNG GALAXY S5 PRIME & OTHER RUMOURS...

Good evening, Synapse Circuit Readers. I hope that you have had a great weekend! The weather is fantastic! It's scorching hot for a change!

What's happening this week? Well, I am going to deliver a bunch of reviews – including the Animation Special that I keep promising. I do apologize for the delay but personal issues are the cause of it. It may please you to know that I am getting there! I am doing my absolute best as per usual!

My Synapse Circuits are still firing!

#Samsung #GalaxyS5Prime #GalaxyS5Premium #GalaxyS5Active #GalaxyKZoom #GalaxyNote4 #GalaxyS5

IT'S PRIME TIME?

Over the weekend it seems that many tech bloggers / online magazines have gone nuts over the forthcoming Samsung Galaxy S5 Prime or Premium. This is no surprise to me as the writing has been on the wall ever since the "leaks" of the Galaxy S5 started to surface (before its release).

Am I surprised by the "leaked" pictures and video? No! A third party protective case manufacturer already gave away the design for the Galaxy S5 Prime – it'll be similar to the current Galaxy S5 only made from metal (aluminium – as they are saying). The only thing that concerns me is the back-plate being removable or not.

The Galaxy S5 Prime is said to be scheduled for release late June.

GALAXY S5 ACTIVE
There's also rumour of the Galaxy S5 Active too. Again, it is to be expected. Samsung has had some limited success with the S4 Active but this time around they are making the handset almost identical to the standard S5...

Galaxy S5 Active (SM-G870): 5.2in Full HD Display, Snapdragon 800 CPU and 16MP Camera. 4K video appears to not be a feature of the camera.

I would imagine that the GS5 Active will be produced in limited stock; if I were a snowboarder or mountain climber I would get one for sure!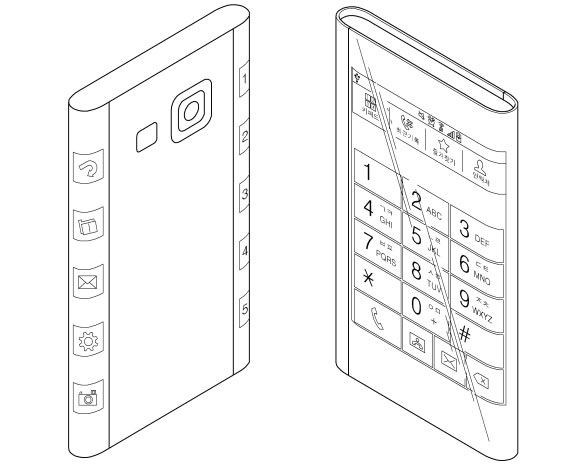 GALAXY NOTE 4
Months ago I had it in mind that there is a possibility that the forthcoming Galaxy Note 4 may get a bendable YOUM screen – of course this is not the same as ultra-futuristic handsets featuring screens that can unfold from a handset to a phablet! Not yet! What we're looking it is one of the prototype handsets showing off a YOUM screen whereby text messages can be read at the side of the handset in tickertape style!
Samsung has confirmed that they are looking into the possibility of utilizing a flexible screen for the Note 4. But, as you know, or should know, just because Samsung are looking into such possibilities it doesn't mean it will manifest. Fingers crossed!

What I do know is that the fourth generation Note will set the design precedent for the Galaxy S design – if the Galaxy S isn't phased out next year. I can see it now: Andromeda. The next phase... The next biggest thing... You just don't know with Samsung.

The Galaxy Note 4 is due a new design and I can only hope that Samsung will unleash their design flare – the technology is there for sure! I get the feeling that the Galaxy Note 4 will be bigger – 6"! Well, Samsung has until August or earlier to finalize the Galaxy Note 4 for September release.

Above fig: Is a concept that Samsung has patented for a possible fourth generation Galaxy Note 4.

RELATED ARTICLES:
http://synapse-circuit.blogspot.co.uk/2014/02/synapse-circuit-samsung-galaxy-s5-24_11.html

THANKS FOR READING...
Please check out the Synapse Circuit site here: Synapse Circuit.com

Yes, I am well aware that the site is due an update soon! It's coming...

Synapse Circuit for tech news, opinions, articles, reviews and competitions. You will find interactive PDF magazines, videos and links to free legal software! Check it out at Synapse Circuit dot com